Resource Library
Download the PowerPoint presentations and printable handouts that you need to facilitate the Now Let's Talk... modules.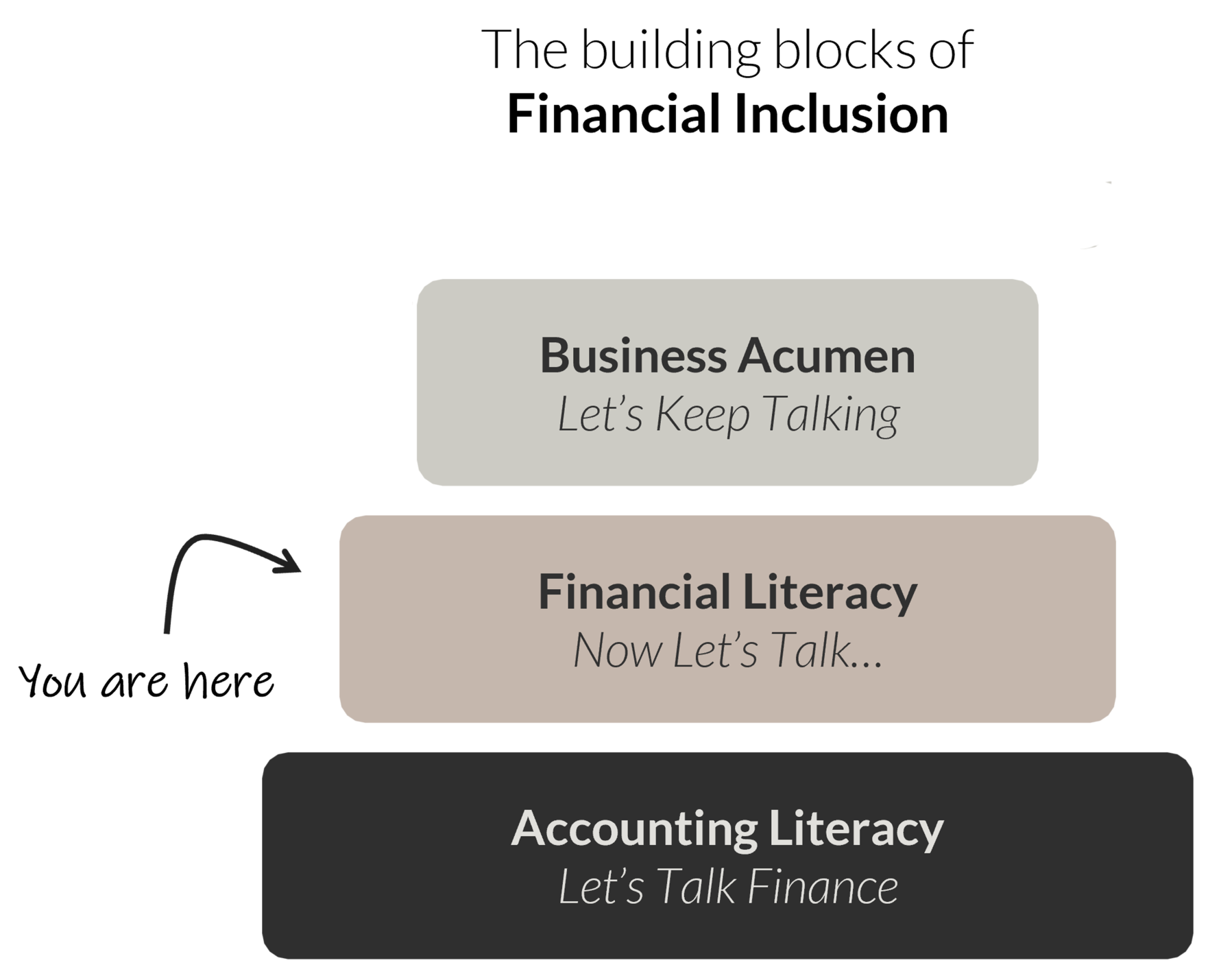 BUSINESS ACUMEN (LET'S KEEP TALKING...)
This coaching program supports graduates as they implement their powerful new financial literacy at work and at home.
FINANCIAL LITERACY (NOW LET'S TALK...)
A collection of specialized follow-on and tailored topics, Now Let's Talk… modules build on the foundation that Let's Talk Finance provides.
ACCOUNTING LITERACY (LET'S TALK FINANCE)
Our foundation program. Learn to make sense of a balance sheet and income statement, and understand how a business generates value.
NOW LET'S TALK...
Business Analysis
Attendees get to apply the foundational learning from Let's Talk Finance. Understanding finance is the platform for understanding business, hence this module focuses on reading financial statements, and identifying and examining the story of business performance.
In this module we:
identify trends in financial statements
start to calculate key metrics of profitability
explore liquidity ratios
practice talking about business performance
link the cash flow to the balance sheet and income statement
ensure our understanding of accounting underpins how we think about business
NOW LET'S TALK...
Budgeting
We start with a group discussion around
budgeting, addressing the aims and principles
of budgeting, alongside the different processes
that can be deployed. Then we use our case
study set of financial statements as the basis for
a budgeting exercise.


Attendees are given background information
that explains the trends in the current income
statement, and high level context for the future.
From this, attendees will have to extrapolate
a realistic set of budget numbers for the next
financial year for the full income statement.
These plan numbers are then discussed in detail, with reference to common issues like: growth compounding, identifying the correct
calculations for extrapolating trends, stretch
budgeting, and budgeting as a behavioral tool.
NOW LET'S TALK...
Advanced Financial Analysis
In this module we practice analysis skills.
Attendees review summarized financial
information for different companies, and match
these companies to the industry sectors they're
from based on their balance sheet and income
statements.

We then analyze and interpret the
financial statements of Apple Inc. and Shell plc,
examining the stories in their commentaries,
accounts and associated notes, like:
underlying or adjusted profit metrics, i.e. non-

GAAP versus statutory numbers

currency fluctuations
classifications of investments
exceptional items and their accounting treatment
share/stock repurchase schemes and cash

flow reporting
NOW LET'S TALK...
Accounting Frauds
We look at recent and infamous frauds, explain
how they happened and in retrospect, what
the signs were.

Understanding the common
themes from these case studies (e.g. revenue
recognition, asset over-statement, liability
under-statement) makes attendees more aware
of and more capable of spotting potential areas
of concern.

This module is particularly useful for
lawyers and similar roles.
Subscribe to our newsletter now!
Get weekly updates on live streams, news and more right in your mailbox.